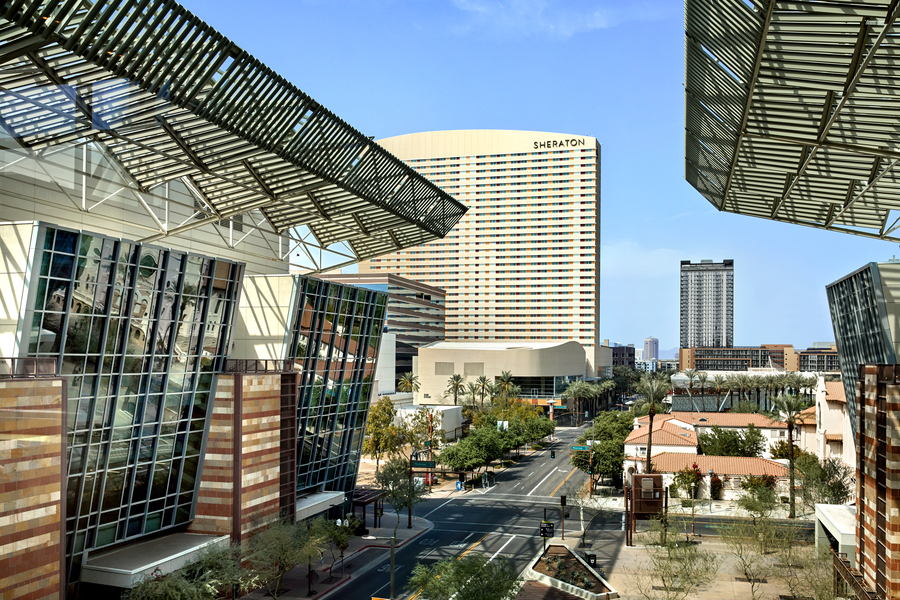 Why Phoenix?
Phoenix is the capital of the southwestern U.S. state of Arizona. Known for its year-round sun and warm temperatures, it anchors a sprawling, multicity metropolitan area known as the Valley of the Sun.  It is also the fifth-most populous city in the United States, the largest state capital by population,and the only state capital with a population of more than one million residents. The city is within one of the world's sunniest regions, with its sunshine duration comparable to the Sahara region. With 3,872 hours of bright sunshine annually, Phoenix receives the most sunshine of any major city on Earth.
More than 41,000 acres of Phoenix desert and mountain parks and preserves offer everything from busy, arduous summit climbs to secluded, meandering valley walks. Over 40 trailheads provide access to more than 200 miles of trails. Phoenix has an incredible spectrum of accommodation styles and special events venues that boast sophisticated meeting facilities, impeccable service and plenty of room for meeting as well as exploring, pampering and unwinding. 
Phoenix's downtown vibe has a style all its own, with a trendy yet unpretentious ambiance that's accessible to all. The result is an eclectic mix of independent coffee shops, restaurants, bars, music venues and art galleries that create an inspiring atmosphere for fueling team collaboration and fresh ideas.
Easy to spot in their bright orange shirts, Downtown Ambassadors are "roaming concierges" who know everything about downtown. No matter what you're looking for – directions, a place to eat, a happy-hour beverage, information about performances or sporting events – an Ambassador can help. They walk the sidewalks of downtown from 8 am to 11 pm, seven days a week, 365 days a year.
Accessibility
Phoenix Sky Harbor International Airport is home to 20 airlines offering non-stop flights from Phoenix to more than 105 domestic
destinations and 24 international destinations. It is a hub city for two major airlines: Southwest and American. In addition, our airport is only four miles from downtown Phoenix and accessible via our Sky Train and Valley Metro Rail system.
Affordable Transportation
The Valley Metro Rail offers an affordable option to get to downtown Phoenix from the airport and back again. The rail also connects
downtown to midtown and uptown, along with neighboring communities Tempe and Mesa. It continues to be one of the most
affordable transportation options for attendees with tickets at $2 oneway and $4 for a day pass. Taxi and rideshare options are also
available from the airport.
Bucket List Destinations
Travelling to Phoenix can cross off various bucket list items. The Valley of the Sun offers amazing day trips to unforgettable places like Grand Canyon, Sedona, Montezuma Castle National Monument, Petrified Forest National Park and many more.